Weghline Train weighing system
The weighing of trains in motion fulfils a need to measure, efficiently; wheel, bogie, wagon, and total train load for reasons of commerce and safety.
There are two broad categories of rail weighbridge - those having civil foundations and those without foundations. These may be referred to as conventional load cell and foundation-less respectively. Both categories are in common use but most new installations are of the foundation-less type.
Weighline is an advanced electronic train-weighing system developed by Avery Weigh-tronix/Railweight, which automatically recognises moving rail vehicles and records their weights at speeds of up to 200 km/hr. Weighline weighing systems are in use for more then 20 years and are the most popular in the world.
Weighline allows main-line speeds to be maintained during the weighing process, resulting in improved freight turn-around times and other benefits.
The system, which can also be used for stationary rail vehicles in inspection pits and elsewhere, affords all the benefits of conventional train-weighing techniques, but can be installed and operating in hours at a fraction of the cost of conventional weighbridges.
At the company's factory sections of special transducer rails matching the existing rail type at the site of location are prepared. These rail sections are aligned and welded into position in place of the existing sections of the track. All heavy engineering work associated with conventional weighbridge installations is eliminated and so no special foundations or drainage are required.
Signals from the transducers are relayed to the system's weight processor for simple axle-weighing tasks or for more complex operations. Results can be read on a visual display unit, printed as hard copy and passed on to a host computer.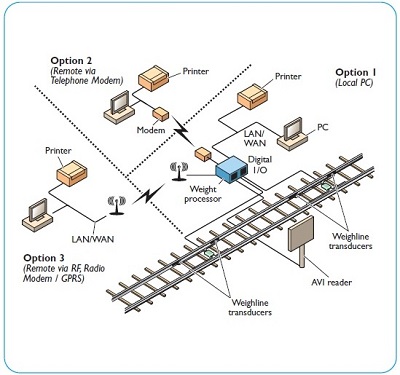 Installation of the system in marshalling yards or goods depots can achieve significant savings in operating costs, by detecting wheel, axle or wagon overloads, reducing damage and wear to rolling stock and discovering uneven or badly loaded wagons to reduce track maintenance and ensure safe operation. Data gathering includes side-to-side and end-to-end imbalance detection.
Designed for use in a wide range of applications, Weighline can be installed on all sizes and types of rail, whilst its simple design, suitable for single or bi-directional weighing ensures a long life of reliability and accuracy.
Weighline is approved for trade in many countries and has International Conformity certification by the Organisation Internationale de la Métrologie Légale (OIML).
We are exclusive representatives of Avery Weigh-Trinix/Railweight in South Caucasus. .
In Georgia, we have installed early version of Weighline weighing system in 1996 and it is still successfully used in 1st region of port of Poti. This system is mainly used for weighing dry goods.
In 2012 we have installed and put into exploitation Weighline weighing systems in Khulevi Black Sea Terminal and in port of Batumi, which are used for weighing as for dry, as for liquid goods. In this system is additionally provided Full Draft mode, which completely excludes the influence of moving liquid over the accuracy of weighing. Full Draft mode is automatically applied by the system only in case of identification of 4 axel wagon-cistern, while in coupled in motion weighings.
In 2013 we have installed and put into exploitation second Weighline weighing system in 2nd region of port of Poti.